Offsite and Retreat Facilitation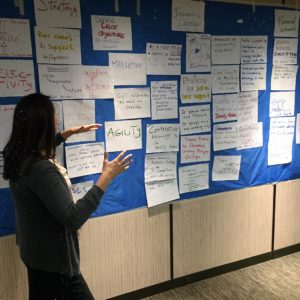 We provide skillful facilitation of corporate retreats and off-sites. These offsite are often part of a larger organizational change and development initiative. The off-sites typically run from one day to five days in length. Careful planning and extensive preparations are conducted to ensure the objectives for the offsite are achieved. Information gathering is conducted through online surveys, private interviews or focus group discussions.  The agenda for the offsite may include team building activities, strategic planning exercises, team and leadership skills development and/or facilitated discussions to address challenging issues. A retreat report is prepared to document the insights gained, the skills developed, agreements reached and the specific, next steps that will help build a unified and high-performing team culture. Follow-on coaching with the senior leaders ensure communication, feedback and accountability all support the desired outcomes. 
Our Organizational and Leadership Development Services Also Include:
High Impact Executive Decision Making Facilitation
When your executive team is faced with a critical decision, strategic challenges or a seemingly, irreconcilable conflict we can help.
Systemic Leadership Coaching
We conduct one-on-one coaching with an individual leader or coach the executive team as a group.  In both cases we use the systemic approach to quickly enhance the individual capacities and collective performance of your leadership team,
Change & Innovation Through Systemic Organizational Development
Successful change in an organization does not just happen.  It starts with the vision, communication, teamwork and leadership skills of all employees, both management and staff. Aligning those skills so the potential synergies are realized is the unique contribution of the systemic approach.
Accelerated Conscious Leadership Training
Most professionals will attend a variety of leadership and team skills workshops and programs during their careers. Yet, where are the amazing leaders in the workplace who skillfully apply the skills and tools they learned? Cognitive information does not become actionable knowledge until it's been integrated at the physical, emotional and spiritual (or energetic levels) as well as the mental. When leaders are able to bring to awareness their untapped resources and inner blocks then their full genius is able to emerge.